This year marked our fourth annual internal hackathon. We were happy to be in person this year, while still allowing teammates the option to participate remotely if they wanted. Our theme went over so well last year that we decided to do one again. With the Hackathon happening in October this year, we thought a mad scientist theme would be appropriate. We set up experiments for teammates to play for a brain break, Hackathon organizers sported lab coats and beakers, and teams got started by creating a team mascot from a toy table - Frankenstein style!
As with each of our Hackathons, our goals were to bring teammates together, foster connections amongst teammates, give teammates an avenue to learn new skills and experiment, and implement some really cool internal projects. Speaking of really cool internal projects - here they are!
Lounge Lizards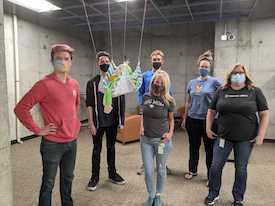 Team Lounge Lizards worked to overhaul a corner in our University Space. The space is typically used for internal events over the lunch or dinner hour, or for area user groups. However, during work hours, not a lot of teammates find themselves down there. The Lounge Lizards wanted to change that and create a cozy space that teams and teammates alike could unwind, have a retrospective - perhaps a holiday themed one, or just enjoy a different environment for a few hours.

---
El Datacabra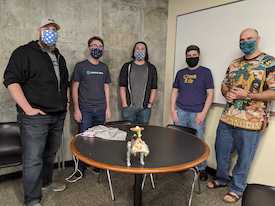 Team El Datacabra wanted to find a way to celebrate the change we make in the world, through our commits! They created a git-hook that teammates can use to send their commit metadata to be visualized in aggregation with other teammates' information! Technologies used included Rust, Grafana, AWS Lambda, AWS Aurora, and Grafana in AWS Fargate. The dashboard is now live internally! The team is continuing work to have teammates adopt this and turn the solution into an open source project.
---
Knightmare Pak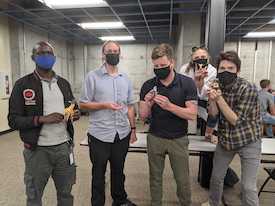 Our hiring process typically ends with a pairing session where candidates work through a coding problem alongside one or two Source Allies teammates. While the interview is technical in nature, the primary goal is to better understand what it's like to work alongside the candidate.
Team Knightmare Pak's project aimed to streamline this interview process. Several interview projects were containerized so that anyone could use the VS Code Remote Container Extension to have an instantly-deployable, ephemeral development workspace. The team additionally created interview project templates and documented the process for creating new interview project repos so that anyone at Source Allies can share their interview project ideas.
Furthermore, Team Knightmare Pak codified our internal interview checklists to ensure that every candidate has a positive experience. The public-facing entrypoint for our pairing interviews can now be found here:
https://github.com/sourceallies/interviews
---
Note from Organizers
We had such a great weekend and have already started thinking about what we can do differently next year to continue to meet and exceed our Hackathon goals! If you're interested in reading more about past projects, take a look at our 2020 blog post!